Spring season is just around the corner, and sooner or later we will all have to answer the famous: "What am I going to wear?" question. However, from year to year, it is becoming more and more easy to answer it, due to all the possibilities and varieties. There is a little bit for everyone, you just need to figure out which of these trends will do the best job in representing you.  
Athleisure
I'm still not sure whether we should thank Rihanna and her Fenty x Puma launching, or supermodels and celebrities who started embracing this casual style on the streets. And if you don't consider yourself a bold person, maybe this trend is not for you. Why? Because the beauty of this trend is in creativity. You will see it all – sneakers and a suit, tracksuit bottom and a pair of stunning ladies shoes, preferably heels, parkas, 90s nylon tracksuits that were widely embraced on runways paired with chic jewelry etc. There are no rules, and it is all about mixing and matching.
Plastic
That futuristic clothing that was only seen in Sci-Fi movies, is now finally among us. There is everything, from plastic corsets we've seen at Tibi fashion shows, over countless different models of see-through boots and heels, all the way to insanely cool rain coats, synthetic rubber pencil dresses, Balenciaga platform crocs (oh yes, it happened) and many, many more.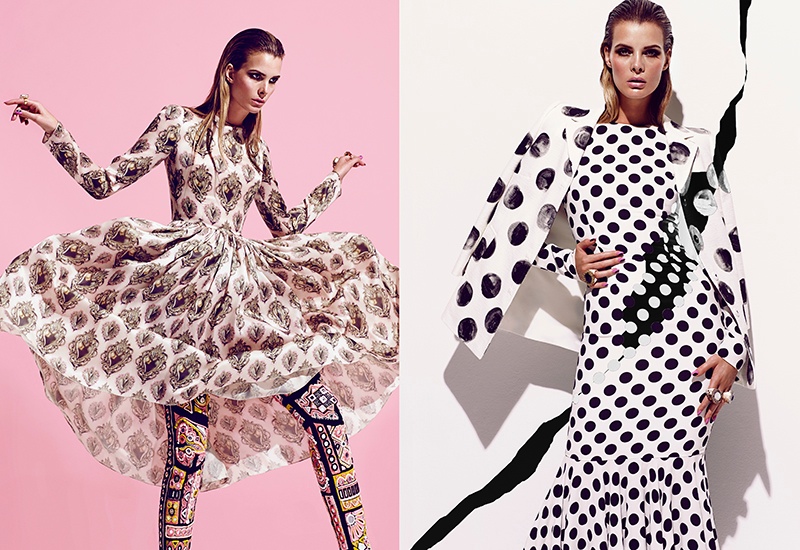 Prints
Oh my God, where should I begin? Some of the print trends are so creative and complex that they will definitely be on trend for a very long period of time, and some are just variations of good old classics.
First there were stripes. A lot of stripes. Horizontal, vertical, pinstripe, diagonal, dashed, in all possible color variations and combinations, widely embraced by countless brands. Speaking of stripes, candy stripes also made a comeback. They are distinctive due to their signature pink color that reminds us all on candy sticks, and were seen on dresses, shirts, jackets etc.
Next, logos also made a comeback accentuating Versace, Balenciaga and Gucci outfits. Besides them, there were also slogan prints, which were widely embraced by many designers from Moschino all the way to Dior.
The groundbreaking florals were, normally, on the top of spring/summer print list, in both realistic and 60s variations. And speaking of stereotypical spring/summer prints, polka dots also made quite an appearance on Carolina Herrera, Blumarine, Alexandre Vauthier and Rodarte runways.
When it comes to patterns, we've seen a lot of animal patterns that, somehow, will never completely go out of style, and rainbow patterns in all possible spectrums.
Last, but definitely not least, the biggest boom of them all were definitely cartoon and art inspired prints. There were t-shirts and fancy dresses with comic and cartoon characters, leggings with famous pop-art prints, printed jackets, vests, blazers and many more. You just cannot hate this trend - it just makes everyone so damn happy.  
Feathers
Oh they were everywhere. It is like runways were packed with human-like birds rather than supermodels. Jokes aside, apparently, feathers are now a huge deal in fashion industry. We've seen feather dresses, feather skirts, feather jackets etc. And not to mention that this birdy vibe got spread on both bridal and shoe industry as well, after all, you've probably noticed all the feathery ladies shoes and feathery bridal dresses. It is like spring version of fur. Keep flying girl!
White suits
Fall suiting was all about gray plaid, while spring is all about the brightest color of them all. We all cannot wait to strut around the streets and offices wearing white from head to toe. Get your oversized white tux and white bell pants and show them all how it's done.
That would be it. How do you feel about 2018 trends? Which one is your favorite? Let us know.